Events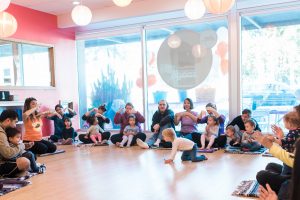 KID'S NITE OUT | ages 2.5-12 years
upcoming: Saturdays | APRIL 29; MAY 13, 27  | 5pm-10pm
Kids Nite Out: Includes our signature YOGAPLAY® class, games, arts & crafts, stories, music and a movie on a big screen!
PIZZA, DRINK & SNACK INCLUDED. Kids can come in PJ's and bring a blanket or sleeping bag.
*Reservations Recommended. Must be potty trained. Movie G & PG and age appropriate. Movie will be posted at check in.
Dates: Most second & last Saturday of the month PLUS some extra dates. Please check the schedule for the latest dates! **Please note: KNO may be cancelled on some major holiday weekends if not enough sign ups.
Cost:
$40 per child | $35 additional sibling discount

Sing with MOANA! | all ages
Sunday | June 4 | 3-4:30pm

NEW DATE!

The "REAL" Moana is coming to Zooga Culver City, traveling across the sea just to meet our special Zooga family. Please join us for the story of Moana, singing and dance! All ages welcome. *note: Moana is a character performance actor.

Cost:
$20 per child | $15 additional sibling discount
$15 per child with ELITE membership
1 free adult per child | additional adult $5


ZOOGA YOGA KIDS TEACHER TRAINING (LEVEL 1 & 2) | adults 18+
MAY 5-7 (level 1) | Friday – Sunday

JUNE 9-11 (level 2) | Friday – Sunday
DECEMBER 2-4 (level 1) | Friday – Sunday
Complementary Materials:
Zooga Yoga Kids Teacher Training Manual (50+ pages!)
Length:
3 Days | 20 hrs | Friday (6p-9p) Saturday (9:30am-5pm) Sunday (10am-6pm)
Pricing:
Level 1 & 2 | $450
Early Bird Special- Level 1 & 2 | $400*
Bring a Friend Special– Level 1 & 2 | $375
**The Early Bird cut-off date is one month PRIOR to the scheduled training date. To qualify for the Bring a Friend Special BOTH friends must sign up together.
Certification:
A "Certificate of Completion" will be presented at the end of the training or be mailed to you.
Prerequisites:
None
Training Registration Policies:
Please read our Terms and Conditions prior to registering for a training.
A minimum number of registrations must be made in order for the training/event to take place. The minimum is typically 10, but may vary.
Attention New Trainees:
The trainings can be taken non-consecutively.
No prior experience necessary. All are welcome!
A minimum 50% non-refundable deposit is required to reserve your spot.
Advanced registration required.

ZOOGA YOGA CAMPS | 3 – 12 years
SUMMER CAMP DATES | July 31 – August 4 and August 7-11
DAYS | Monday -Friday, 9am-3pm (aftercare available from 3-5pm)
Join our unique Zooga Camps, where your child will travel with us on a themed-YOGAPLAY® adventure each day, exploring basic yoga poses through imgination, mindfulness, breathing, socialization with other children, arts-n-crafts, games and more! We have the best camp teachers and yoga teachers in town. Your child will leave each day with a new self-awareness and new friends. *must be potty trained
*On rainy days, a themed movie may substitute for play time in the park. You will be notified if schedule will change.

ZOOGA ZEN & NINJA CHALLENGE
 (ages 5+, in-class participation)
Classes participating: Yogi Bears, Mighty Pandas, Warriors & Kickin Ninjas

Ongoing | end of month.
Cost: Free.
Challenge: This challenge is a check in for your child's yoga growth. We encourage all to participate. This is non-competitive. Each yogi/ninja can demonstrate their mastery of each pose (in order) according to color. Once mastered, they are awarded with the matching color bracelet.
*One bracelet can be earned per month
**Demonstrations are the last week of the month. A sign up sheet will be at the front desk at the start of class
Check out the challenge here.

PARENT
 CLASSES with RIE Trained Educator Eileen O'Sullivan (must contact for enrollment)
Set in a creative environment, children can move freely and explore in a safe space with other children at the same stage of development. Parents learn about developmental stages through observing their children and seeing first hand the value of uninterrupted playtime and learn about setting the rhythm of the day for their child and family.
Eileen O'Sullivan trained with Magda Gerber at the original RIE center in Silver Lake, CA. She also completed an intensive training at the Pikler Institute in Budapest, Hungary where RIE has it origins. She has nearly thirty years experience apply the RIE philosophy with children in groups.
The Parenting class meets once a week and are ongoing. Families are encouraged to join at any time space becomes available.
For eligibility, availability and enrollment information, please email our RIE educator Eileen O'Sullivan at eileenosullivan579@gmail.com
*Please note: Not part of Zooga Memberships.
**NOW ENROLLING IN ALL CLASSES! | Sign up in studio or via contact above.

BIRTHDAY PARTIES, PRIVATES and WORKSHOP SPACE available.