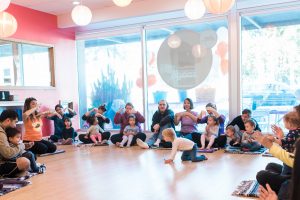 KID'S NITE OUT | ages 2.5-12 years
upcoming: Saturday | May 18th & June 15th | 5pm-10pm

Kids Nite Out: Includes our signature YOGAPLAY® class, games, arts & crafts, stories, music and a movie on a big screen!
PIZZA, DRINK & SNACK INCLUDED. Kids can come in PJ's and bring a blanket or sleeping bag.
*Reservations Recommended. Must be potty trained. Movie G & PG and age appropriate. Movie will be posted at check in. Kids are on premises until picked up.
Dates: One Saturday of the month PLUS some extra dates. Please check the schedule for the latest dates! **Please note: KNO may be cancelled on some major holiday weekends or if not enough sign ups.
Cost: $40 per child | $35 additional sibling discount

SUMMER CAMPS | ages 3-10 years
WEEK 1: June 17-21, 2019 | 9am-3pm
WEEK 2: July 15-19, 2019 | 9am-3pm
WEEK 3: Aug 5-9, 2019 | 9am-3pm
WEEK 4: Aug 12-16, 2019 | 9am-3pm
WEEK 5: Aug 19-23, 2019 | 9am-3pm
EXTRAcare hours available* |  3-5pm

For more info and pricing, click here.

Zooga University – Transitional Preschool Program | ages 20 months – 3 years
Tuesdays & Thursdays 9:00am-11:30am
September 11, 2018 – June 27, 2019
*no classes on major holidays or 12/24/18 – 1/3/19
COST: $380 per month, ongoing
Zooga U is an engaging, social, play-based readiness program offered at select Zooga Yoga locations. Our goal is to help children learn to overcome separation anxiety while learning in a positive way to grow in all aspects of development. The program includes: circle time, healthy snacks, play, music, "fit" classes, art, sing-a-longs and much more!

ZOOGA ZEN CHALLENGE
 (ages 5+, in-class participation)
Classes participating: Yogi Bears, Mighty Pandas and Warriors

Ongoing | end of month.
Cost: Free.
Challenge: This challenge is a check in for your child's yoga growth. We encourage all to participate. This is non-competitive. Each yogi/ninja can demonstrate their mastery of each pose (in order) according to color. Once mastered, they are awarded with the matching color bracelet.
*One bracelet can be earned per month
**Demonstrations are the last week of the month. A sign up sheet will be at the front desk at the start of class

BIRTHDAY PARTIES, PRIVATE PARTIES AND RENTALS AVAILABLE.